The big birthday weekend is finally over.
It all started with my birthday on Thursday. Scott took me out for lunch and gave me tickets to Mama Mia in Vegas. I ate raspberry chocolate cake and clam chowder with yummy sourdough bread. I can honestly tell you I didn't feel even a little bit guilty. I found this amazing cake store called Nothing Bundt Cake. They have these little individual cakes called bundtlets. Perfect for one person.

As I was savoring this perfect slice of heaven, my wonderful friend Joey brought me another one! Oh the day just gets better and better!

So I didn't eat that one all by myself since I was starting to feel a little sick from gobbling down the first one. I shared it with the kids.
I did get a big one for the big dinner and birthday celebrations.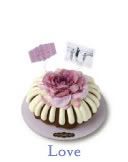 Later that night we went to one of those Astro Burger (one of those yummy greek burger places.) The kids all had cheeseburgers and Scott and I had gyros. So yummy....until I threw up later that night. I guess I wasn't used to so much crap. Anyway, I enjoyed most of it.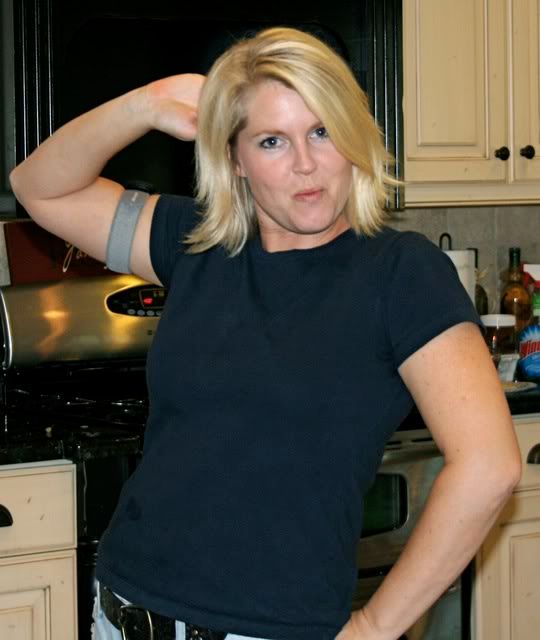 See my bodybugg on my arm? I've had a few people think it was a tatoo. huh? really? ok.
The next day (Friday) was Scott's and Ash's birthday. It was pretty quiet for me we did go out for dinner again since it's a tradition. They picked our favorite pizza place. We had salad, pizza and spumoni with rum sauce. I gave Scott one of those flip camcorders. They are way cool. I can't wait to put up some of them. Sierra slept all through dinner since she woke up at 6:30 in the morning. Her normal time to wake up is anywhere between 8:30 and 10:00.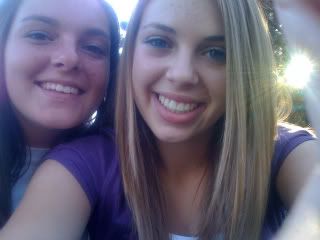 Here is Ash and her best friend. I can't believe she is 17! That freaks me right out.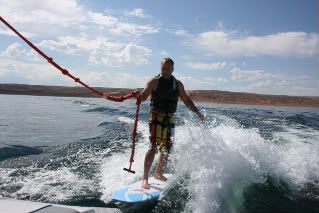 Here is the Scott doing what he loves. Who knew you could surf behind a boat? This was just last weekend down in St. George.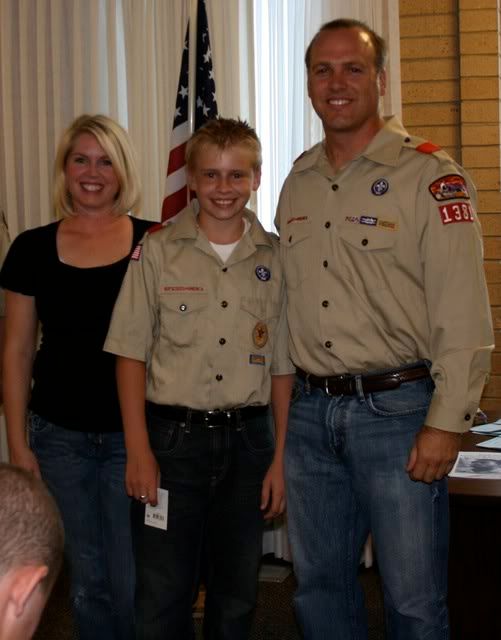 I had to put one up of him smiling. He is such a hottie! Yum!
Then came Saturday and little Sierra's birthday. Three years old. She gave me the best birthday present. She pooped in the potty! Yes, she finally did it and we celebrated. There was much rejoicing. ha!
We spent the day getting ready for all the family to come for dinner and cake on Sunday.
She got her first crown and princess jewlery and shoes from her cousin Jamie.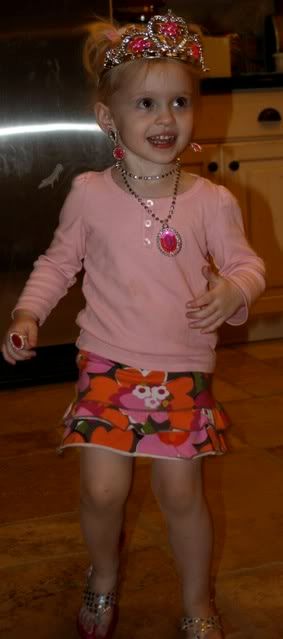 She then did some Irish dancing on the kitchen floor. So adorable.
Grandma gave her a cute crayon apron and a huge coloring book. He other Grandma gave her some books which she loved. She also got a fun little Brat doll from her Uncle Ken and Aunt Shana. They are so awesome. Uncle Ken did have fun teasing Ashley about her boyfriend. She get two dozen red roses from him. He is a sweet kid.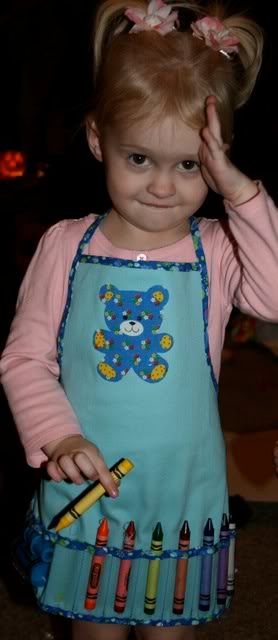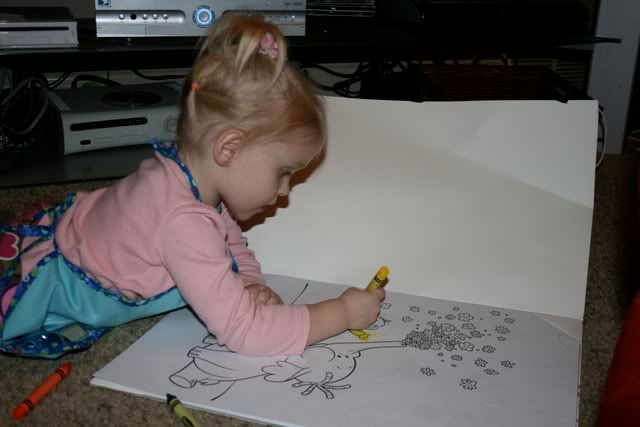 So we are all another year older. I don't think I'm any wiser but at least I'm thinner than last year which is almost as good in my book. ha! Woo Hoo!
Here are some more fun pics from our trip to St. George and Sand Hollow.