Ok, so now for the best part of the last month. Our fab trip to Cancun! I can't remember the last time we went somewhere for a whole week alone. We went to Chicago but that was for business and it was only a few days, so that didn't count.
We walked into our hotel and see this right away.
This is the view from our room.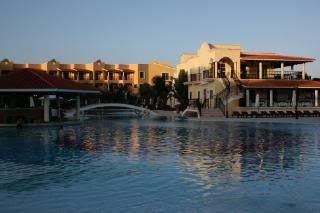 We stayed at an all inclusive, (all food and drinks included). Oh yes, we took advantage of that I tell you. Since we don't drink any alcohol we made sure we made up for it in food, diet coke and virgin pina coladas. HA!
The first full day we spent lounging around on beach chairs by the Ocean. I can't believe how warm the water was.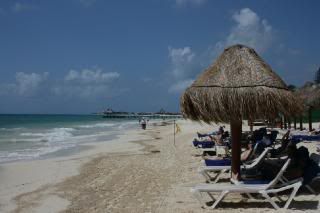 Scott kept trying to tempt me into the water.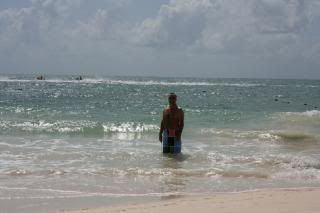 But, this is all I did for the first hour.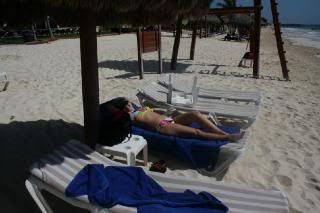 There is nothing so wonderful as lying in the sun by the Ocean reading a great book with a cold drink close by. I was in Heaven.
Unfortunately I was in the sun a little too long and I got a slight sunburn. Only on one shoulder and my chest. Weird huh?
Later that night they had a big buffet on the beach with a big dance show after.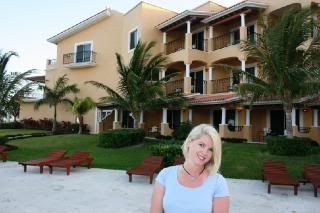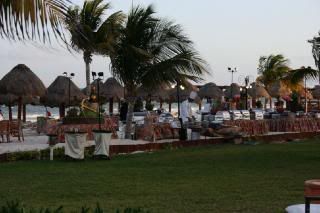 We sat a a big table with a bunch of people who couldn't believe we didn't drink. "Why? Why don't you drink"? I guess we were something of an oddity at a resort where everyone drank...all day...from morning to early the next morning. Um, diet coke no ice please.
One day we took a tour of Chitzen Itza. The Ruins were spectacular. Our guide was amazing. He had such pride for everything he was telling and showing us. It really made me look at Mexico and it's peole in a different light. Did you know the government offers college for free? How amazing is that? Anyone can become a doctor, lawyer, anything they want to for free. Amazing.
Here is the big temple that is so famous because of the all the astrology connections. On the Equinox the shadows make it look like snakes are crawling down the the steps.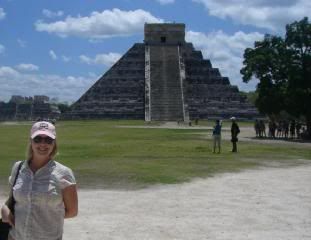 The Mayan calender was more accurate than anything anyone has ever seen before. It also ends in 2012. Our guide said they have figured it out to be December 23 at 5am to be exact. Everyone has some pretty fantastic ideas why. Aliens anyone? hehe.
Here are some carvings on the ball court.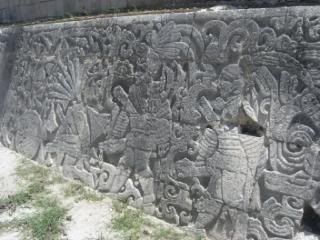 Apparently they cut the head off the captain of the winning team. Why the winner? Because he was worthy to be received by the Gods. I think I would throw the game. Yikes!
This is carvings of skulls on a platform where they did human sacrifices. Ick.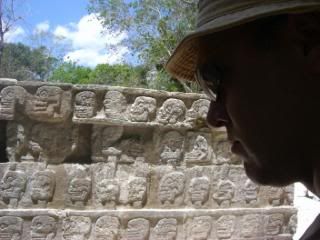 We walked a ways down to this sacred water hole. There were illegal vendors all the way down on both sides. They called to us to buy their stuff the whole way.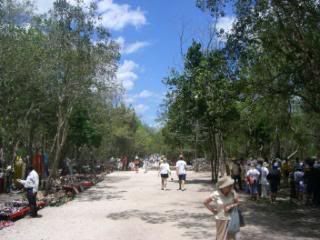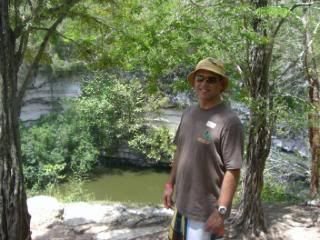 When we walked back the heat was unbearable. I thought I was getting heat stroke. Have you ever been so hot that you thought you were going to die? My stomach started to cramp up even though I had a ton of water I think I sweated it all out. After we left we ate and then went swimming in an underground cave called a cenote. It was amazing. It was cool temperature wise, and the water was cold as well. We almost didn't get in because we had a long three hour ride back to the hotel and didn't want to be wet the whole way. I didn't care, Scott said I should get in and that's all it took. I got in and it felt fabulous. The sticky heat washed away as little black fish swam all around me. Scott watched for a bit then couldn't stand it and got in right after.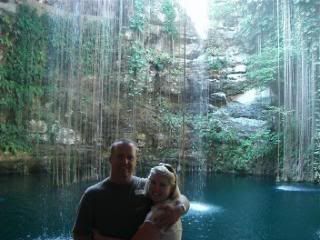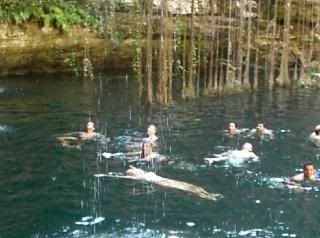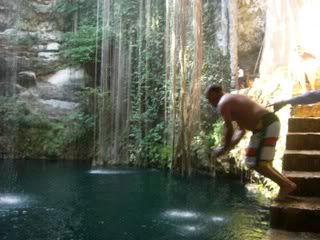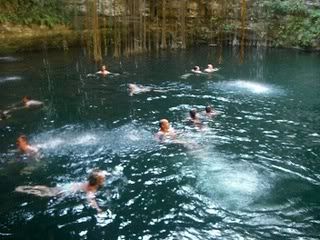 Of course we froze all the way home because the driver had the air conditioner on to 16c. So that's what... below freezing? Ok, so it's 60 degrees but still freaking cold when you are wet. Finally someone braver than I was spoke up and they turned it off.
The next day we went snorkeling, I figured out I have a slight fear of heights because when I put my face in the water I kind of freaked out a bit. Once I got over the hyperventilating I was able to relax and enjoy it. It turned out to be my favorite thing. Scott got a little motion sick from the waves so we didn't go out the last time plus my life jacket had rubbed a spot on my arm raw. We did meet some really great Canadians that were in our van. We talked the whole way there and back. They really made it even more fun for us.
The last day we just lazed around the entire day and had lunch by the pool. I have a whole new appreciation for calamari.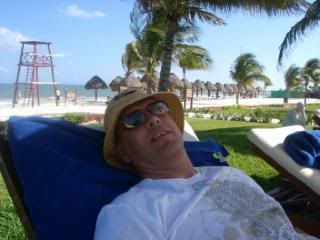 The trip home was long but not bad, the Atlanta airport was huge! We had to take a train, shuttle thing-y to get from the international part to the other gates. So cool. We almost missed our connecting flight because they switched gates and didn't announce it they just put it up on a board thing that you don't usually check because you go by your tickets. So that was exciting.
It was truly a trip to remember. Oh and we had the best couples massage ever. ;)
Thanks to Scott's parents Jack and Darlene for taking such great care of our kids while we were gone. Sorry you didn't get much sleep and that Ebby got chocolate poisoning. Oh and thank you for doing all those cool things that we never have time for like cleaning the garbage can, the garage and fixing Noelle's dresser. Great idea to move her clothes to the closet. She loves it like that. You guys are awesome! We love ya!